Dancing in the Garden of the Gods
Hang on for a minute...we're trying to find some more stories you might like.
This year's theme for prom was Garden of the God's. Teachers, John Sayer and JIll Sorsen were the prom co-sponsors. Jill Sorsen said that the most challenging part for prom was "choosing a theme." Prom was successful even though the weather didn't cooperate. There were more people this year than last year.
The Open House at the Oak Ballroom was from 5:00 to 7:00 pm for parents that wanted to go and take pictures. The Schuyler Central High School principals and a school board member joined students at the banquet at the Golf Course Clubhouse before the dance. The students were able to choose one of two meals; New York Strip with baked potato and corn with a side salad, or Chicken Alfredo with salad and a breadstick.
Sophomore prom servers this year were; Daisy Angel, Carly Johnson, Brenda Lara-Romo, Maria Mendez, Dominic Semrad, and Vanessa Serrano. The six prom servers were chose based on their top academic scores in their class. When the prom servers were done serving and cleaning, they were able to attend the prom.
The Grande Promenade was from 8:00 to 9:00 p.m. starting at the Colfax Street Bridge to the Oak Ballroom. Students were announced by SCHS Math teacher, Joel Carrillo, as they begin their walk to the Oak Ballroom for the dance. People from the community could then see the students in their formal clothes. Photos were taken by Yearbook Staff outside and inside the Oak Ballroom. The popular color for female dresses this year was maroon.  After the dance, the students then had the opportunity to go to the Amazing Pizza Machine in Omaha for the after prom celebration.
About the Writer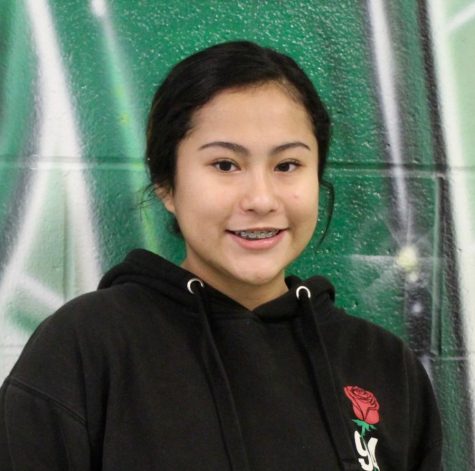 Samantha Marino, Staff Reporter
Samantha Marino is a Freshman and this is her first year as a Staff Reporter for Warrior News. She is going to participate in Soccer.