Applying to College Made Easier
Hang on for a minute...we're trying to find some more stories you might like.
Having students apply to college has become easier with the help of our high school counselors. Each year there has been improvements with the Apply 2 College Day. Amy Johnson, Schuyler Central High School Counselor, explained how the counselors have continued the Apply 2 College Day for a second year, "last year Mrs. Bertrand and I were awarded our grant, we wanted to make a bigger thing out of applying to colleges and we decided to use some of our money to do that." The grant is called the College Access Grant and it is sponsored by Educationquest. This is a four year grant where the money has been used to promote college in any form. As a result of the grant, students will be able to have a better understanding about the college application process. 
Apply 2 College Day was held at the Commons Area for two days. It started on Monday, Oct. 14 and continued to Tuesday, Oct. 15. "We like doing it in the Commons Area so that younger students walk by and look to see what is going on and hopefully have something to look forward to" Ms. Johnson commented. This year approximately 95 students applied for college. Also, having the colleges come in and talk to the students was new this year. It gave students more information about the requirements and what the colleges offer. Before, it would only take one day and the counselors would go into the English classrooms and assist students with applying. 
Ms. Johnson also shared her thoughts about parents being involved in this process. "Parents should always be part of the conversation with any student about their future plans. Not every parent has the experience or time to learn about the process, though, but I believe that I can speak for Mrs. Bertrand and myself by saying, that we always love it when parents ask questions and/or want to learn more about what their students are doing" stated Ms. Johnson.
About the Writer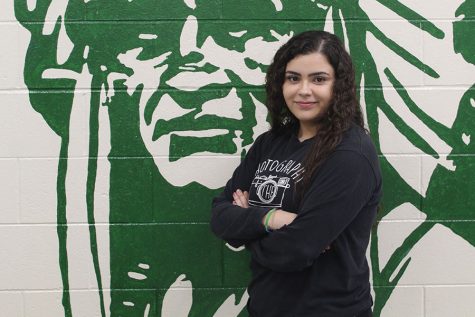 Maria Romero, Staff Reporter
As a Senior, Maria Romero is a new Staff Reporter for Warrior News. Her main interests are Snapchat, reading and watching Netflix. This is her first year...