Bigger team and new coach for the Dance team
The Dance team for SCHS chose a new coach. Tryouts week was March 14-18. Tryout day was Friday March 18. Dancers learned a series of skills and techniques like jumps, kicks, and turns. They were graded based on technique, performance, memory, overall appearance, and teacher evaluation of character and leadership skills. After the audition, scores were tallied and the place where the biggest break in scores occurred was where the line was drawn between junior varsity and varsity. This method was different from previous years. In the past, there were returners and newcomers and some students who tried out did not make the cut. In total, 21 girls made this year's Schuyler Central High School Dance team. All 21 girls who tried out made the team. Selected for the varsity team was; captain Natalie Yrkoski (12), Andrea Azcunaga (11), Hope Boreman (11), Alekxa Olvera (11), Jamie Romero (11), Natalie Espiritu (11), Mia Bernal (9), Yasmin Montanez (9), Kimberly Morales (11), and Isabella Adame (10).  Selected for the  junior varsity was; Jasmine Acosta (11), Emily Garcia (11), Clara Lesiak (11), Maria DeLeon (11), Aylin Portillo (11), Kaley Cech Hernandez (9), Nadia Pond (9), Jamie Romero (12), Alexa Contreras (9), Romillia "Maddy" Pineda (11), and Miriam Deanda (9).
Bobbie Jo Rocheford, the new dance coach is an 8th grade English teacher at Schuyler Middle School. She has taught for 23 years, which included Schuyler Middle School for six years. "We chose to have junior varsity and varsity this year in dance because we want to give dancers the opportunity to grow their skills," commented Ms. Rocheford. She shared that she has no dancing experience but was a cheerleader in the 90's and a Wayne State cheerleader.
Bigger team and new coach for the Dance team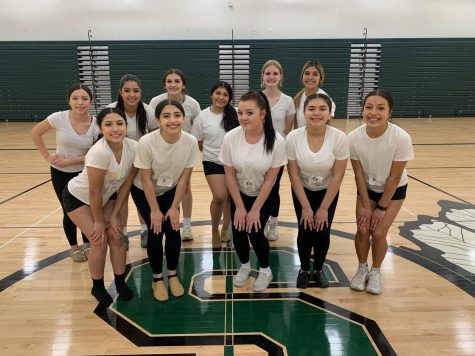 "My daughter danced for much of her life and was also the captain of the SCHS Dance Team when she was in high school," shared Ms. Rocheford. She did coach the team as an interim coach for three months a few years ago. Mrs. Rocheford is excited about the work ethic of the dancers. She took this position as a dance coach because she wants to give back to the school and community. "Coaching the dance team is one small way for me to say "Thank You" to this amazing place we call home," Ms. Rocheford discussed. She was born and raised in Schuyler and wants to live in Schuyler for the rest of her life.