Girls Wrestlers compete in Florida
Three girls from the SCHS Girls Wrestling team attended the National Disney Dual Competition in July. They were; Senior Evelyn Guzman, Junior Hasley Salgado, and Sophomore Carly Wemhoff. In order to make it to this competition, wrestlers had to place in the top two spots at an Amateur Athletic Union state event. Mark Wemhoff, Science and Construction teacher is the coach for the girls wrestling team. Coach Wemhoff has been coaching Schuyler girls wrestling teams for 8 years starting at the junior high level. Coach Wemhoff explained that if a wrestler placed 1st they were on the A team and 2nd goes to the B team. Evelyn finished the Florida duals with a record of 12-1 and was a Silver All-American Carly finished 7-6 and Hasley 4-8.   Evelyn and Carly were on the Nebraska Bib Team, and Hasley was on the Cornshuckers team. The Nebraska Bib team earned 5th place as a team out of 20 teams. Coach Wemhoff also explained that "with this experience they were able to be teammates with other great girl wrestlers from around the state."
Evelyn shared in an interview that she wasn't into wrestling in the beginning. She began to get interested when she changed her class to Coach Wemhoff's class. She also said that from there she made some friends that talked her into trying it. When she wrestled in Florida, she was feeling pretty excited because she was getting an opportunity that not many get. Advice she would give to girls who are interested in wrestling is how "at the beginning many matches will be lost, but if effort and time is put into it, the results will show and when least expected their hand will be the one raised." A challenge Evelyn faced was getting the money for the trip. According to Evelyn, she didn't wrestle very smart and ended up hurting her ankle. Evelyn said she felt proud to receive an All American award. "I started wrestling without knowing anything about it, and because I also made my parents proud too. It was my way of thanking my coach, my parents, my friends and all those who supported me as well" shared Evelyn. 
     Coach Wemhoff's main goal when at a wrestling tournament is that he wants everyone involved when the girls' teammates are wrestling. "It always is a pleasure to see these girls on the medal stand, but that is not really my focus right now. I want to see each girl have some type of success in every individual match. They may not win, that is ok, I want them to take a chance on the abilities that they are capable of using." Coach Wemhoff also wanted to add "I would love to see students get involved and help lead the charge in growing our female sports, either in wrestling or basketball. It doesn't matter which. It takes a lot of hard work and commitment, but with that the rewards are great as well."
About the Writer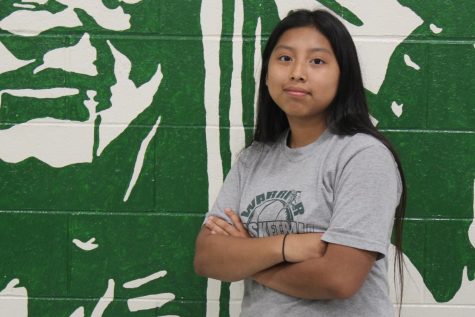 Jacquelyn Perez, Staff Reporter
As a Freshman, Jacquelyn Perez is a new Staff Reporter for Warrior News. Her main interests are playing basketball and watching movies.