Students bring energy to the stage with "Wardrobe"
One Act is going to be performing their first public performance on November 20th at 7:00 pm and on November 21st at 2:00 pm. This year's play is "The Lion, and The Witch and the Wardrobe." There are 44 students involved in the play production cast and crew. There are 5 team coaches for One Act. Hope Pederson, SES Art teacher, is the Director for One Act. Assistant coaches for One Act are; Riley Haug, SCHS Science teacher, Chase King, SCHS English Teacher, Morgan Semerad, SCHS Choir Director, and Paul Niedbalski, SCHS Band Director. "The coaches team has a lot of different variations, which is really beneficial, because all the coaches bring something interesting to talk about which needs improvement or change," explains Ms. Pedersen.
Ms. Pedersen was asked what the audience would be looking forward to when watching the Witch and the Wardrobe. Pedersen responds, "the energy every student on stage has put into this show. The students have put so much effort into the show, and I highly recommend watching it more than once." This is the second year One Act has performed in the new auditorium. Ms. Pederson is excited that they will have multiple opportunities to perform on the stage. Ms. Pedersen explains that part of the excitement is that this time students get to have the opportunity to perform in front of bigger audiences. "Last year, our performances were in front of just judges and coaches or a very limited number of audience members. There's just something about the students getting to perform in front of other peers from other schools that really energizes them," shared Ms. Pedersen.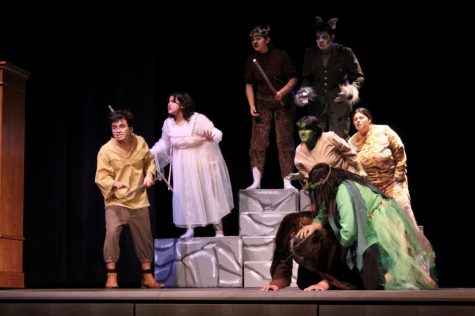 Gina Alba, SCHS sophomore, has been in One Act for two years. Gina's role for the play is Susan, who is one of the four kids. Gina was asked how she was feeling about hosting the competition, on November 9th at the new auditorium and she responded, "I am so excited to finally show off our new auditorium to other schools for One Act. It will be interesting to see it unfold."  Gina's character Susan and her can relate to similar things. They both take themselves too seriously sometimes and prefer being in control. Susan is overall a huge mother figure, which Gina relates to a lot. Gina was asked what motivates her to put in the work that's necessary for One Act, she explains, "To be quite honest, One Act is my safe space. It is where I get to worry about someone else's problems for a change. The collaboration and desire to succeed between everyone involved keeps me coming back." 
Janey Parra, who is a senior, has been in One Act for three years. Janey plays the white witch. Her character is the antagonist, so there are a lot of negative traits in her. Janey does admire her determined nature. Janey is very excited that they have a nice auditorium that schools will want to perform in. She also shared that, "It's a great way to expand their image into a more positive one in the eyes of other schools." 
Colin Gibbons, SCHS junior, was excited to host the One Act Showcase competition. He has been in One Act for three years. In "The Lion, the Witch and the Wardrobe," Colin plays Edmund, one of the siblings. One of the things Colin enjoys about his character is how he grows and develops throughout the show.  "For the show, I get my motivation from knowing that this year we, with all the work we are putting in, will most likely go to State. It is also proven that if one person puts in their all and tries harder, people will grow from them as well," explained Colin.