Record Season for Speech Team
Hang on for a minute...we're trying to find some more stories you might like.
In every regular meet this season, the SCHS Speech students were in the top third of total team performance. This includes the 3rd place at the Logan View, North Bend, and the Lindsey Invite. The speech team qualified as the District B-4 Runner Up Team with 9 medalists. 3 events qualified for NIETOC to be held in May at Millard North in Omaha. NIETOC is a National Individual Event Tournament  of Champions. In order to qualify for the NIETOC, participants must have at least two qualifying bids. The students must place high enough in a specific speech invite throughout the season. For NIETOC, Nayeli Cruz qualified for a persuasive speaking, Kasey Brabec and Chloe Beltrand for duet acting, and Kasey Brabec for humorous prose.
Melanie Gustafson, SCHS English and Speech teacher, was surprised how in nine competitive events at the District level, the SCHS team brought home four champions, which are; Chloe Beltrand, Kasey Brabec, Ashley Hernandez, and a runner-up Tasha Macholan. Cassie Macholan placed 3rd place. Cassie and Brayden Rocha received a 4th place for Duet acting. Sixth place medals were received by Katie Stodieck for poetry and Maria Mendez for serious prose.
"As the season progressed, I could tell placing high at Districts might be within our reach, but to come home with that many high-placing medals was still a pleasant surprise. The entire team contributed to our final placing, and for that, I am so proud of them all," Mrs. Gustafson said. The SCHS speech team's biggest challenge was finding time to practice. Every student in each event needs one-on-one practice with a coach. " We want our team to be competitive, and they are proving they are. So the excitement from the success supersedes the challenge," remarked Mrs. Gustafson.
The students who qualified for the State Speech were; Kasey Brabec, Chloe Beltrand, Tasha Macholan, Cassie Macholan, and Ashley Hernandez. Kasey Brabec and Chloe Beltrand performed in duet acting and received 5th place. Kasey Brabec performed a humorous prose and received 3rd place. Cassie Macholan performed a serious prose speech and Tasha Macholan performed a persuasive speech. As an overall team, Mrs. Gustafson feels like they competed harder than they did last year. The speech crew have competed very closely with some highly-talented schools in both of their conference and their district. "It has been a positive change from last year for out kids to see they are entirely capable of being successful," exclaimed Mrs. Gustafson.
About the Writer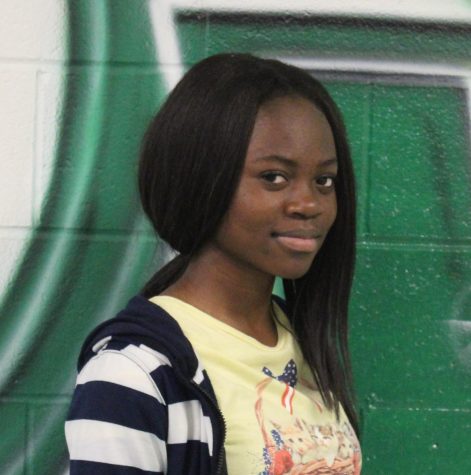 Ketsia Dimpolo, Staff Reporter
Ketsia Dimpolo is a sophomore and this is her first year as a Staff Reporter. She enjoys playing softball as a Schuyler Warrior.