Avengers Endgame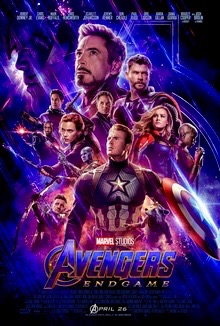 After the highly destructive events of Avengers Infinity War, the universe is in ruins. With the help of remaining heroes, the Avengers assemble once more in order to undo the actions of Thanos and restore order to the universe. Avengers endgame was released on April 26th and had millions of people waiting for this moment. It was one of the most anticipated movies of 2019.
According to the movie rating site, RottenTomatoes, it has a rating of over 95% and 96% of critics enjoyed the movie. Avengers Endgame is a 2019 superhero film based on the Marvel Comics created by Stan Lee. It is the sequel to 2012 The Avengers and also  2015 Avengers Age of Ultron and 2018 Avengers: Infinity War, and is part of the Marvel Cinematic Universe.
The film was directed by Anthony and Joe Russo, written by Christopher Markus and Stephen McFeely. It was Rated-PG and is a three-hour movie. In the film, the surviving members of the Avengers from the Thanos snap and their allies work to reverse the damage caused by Thanos in Avengers Infinity War. The movie was announced in October 2014 as Avengers: Infinity War Part 2. According to the Russo brothers, who directed the movie, they started filming on August 2017 at Pinewood Atlanta Studios in Fayette County, Georgia, shooting back-to-back in Avengers Infinity War and completed it in January 2018.
It had an estimated budget of $356 million which makes it one of the most expensive films ever made. According to Marvel.com, "Avengers: Endgame received praise for its direction, acting, entertainment value, and emotional weight, with critics lauding its culmination of the 22-film story." It also broke numerous box office records and has grossed over $1.6 billion worldwide, becoming the highest-grossing film of 2019, as well as the sixth highest-grossing film of all time. In my personal opinion, Avenger Endgame is one of the best action movies I have seen and I recommend you to go see the movie.