Homecoming to Remember
Hang on for a minute...we're trying to find some more stories you might like.
Warrior Homecoming 2019 was Tuesday, October 22nd through Friday, October 25. Usually every year, we have the opportunity to attend the game and go to the dance on a weekend. Also, Spirit Week is a huge part of Homecoming. There is a special 'theme' for each day that week.There were no classes held on Monday, but on Tuesday the theme was Jerseys. Students came to school wearing a Jersey from one of favorite teams. For Wednesday, it was Dynamic Duo. On this day, you could dress up with your best friend as an iconic duo from either movies, books or tv shows. Thursday, students dressed up in Hawaiian outfits. They wore grass skirts and other typical "Hawaiian" clothes. Friday each grade had their own color to show their school spirit with. Freshmen had gold, sophomores color was white, juniors wore black and seniors had green.
On Thursday, we had a Pep Rally towards the end of the day. Pep Rally speakers talked about the Cross Country runners were going to State, and there was also a game of dodge-ball at the end for the homecoming candidates. During the Pep Rally, Mandy Peterson, Librarian and Student Council Adviser, that the senior class homecoming banner was the winner. Following the football game Friday night, the homecoming candidates gathered and walked down the field as they were introduced. It was then announced that the King and Queen of Homecoming 2019 were Nolan Healey and Kinzie Peterson. 
The homecoming dance started at 9 p.m. and ended at 12, and the doors closed at 10 pm. After the students arrived at the school, they started taking pictures and the music began to play. One thing that got everyone's attention was how the cheerleaders decorated the entrance with a candy theme and it was a night to remember.
About the Contributors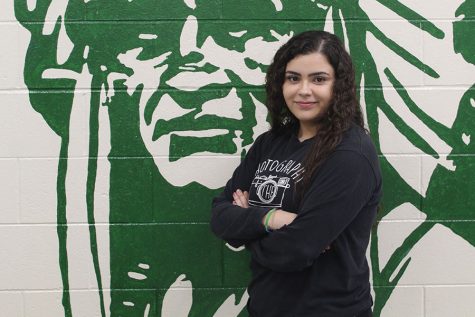 Maria Romero, Staff Reporter
As a Senior, Maria Romero is a new Staff Reporter for Warrior News. Her main interests are Snapchat, reading and watching Netflix. This is her first year...