Schuyler Wrestling Girls Hold State Title
Schuyler Central High School wrestling girls finished their last match at a Girl's State Wrestling Tournament. There were 108 female wrestlers at the State Wrestling Tournament in York, Nebraska. The biggest bracket was 20 girls at the weight class of 106 pounds. Mark Wemhoff, Science and Construction teacher guided the Girls Wrestling team into the first high school Girls State Wrestling Tournament in Nebraska history. "I have coached wrestling for 25 years. I have coached several good teams. In particular, this team was the one of most fun and most rewarding I have coached," Coach Wemhoff acknowledged. 
Senior, Carla Chacon, completing her 6th year into wrestling and placed first in her weight class of 132 pounds. Sophomore, Evelyn Guzman, a first year wrestler placed first place in her weight class of 160 pounds. A senior, Yeni Carreto, another first year wrestler, placed fourth place in her weight class of 152 pounds.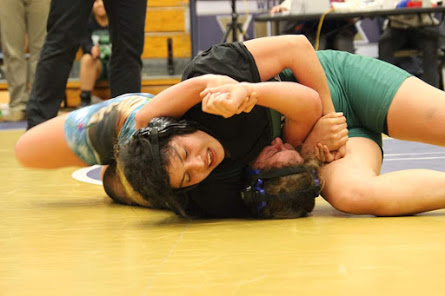 A junior, Angelica Barrera, also a first year wrestler, placed fourth place in her weight class of 145 pounds. Including two freshman, Jasmine Acosta, in her second year placed fifth place in her 170 weight class, and Anayeli Ramirez, entering her second year placed fourth place in her 182 weight class. Sophomore, Analy Carrera, her first year in placed 15th place at 106 pounds. A freshman, Hasley Salgado, her second year, placed 13th place at 106 pounds. Sophomore, Natalie Ruiz, her first year, placed 12th place at 113 pounds and sophomore, Jocelyn Lagunes, her first year, placed 12th place in the 113 pounds class. Freshman, Jamie Romero placed ninth in the 138 pounds class. Since a freshman, Laura Romero, was injured, she was not allowed to participate in the first High School Girls Wrestling Tournament. The Schuyler Girls Wrestling Team came in Runner Up out of 36 different wrestling teams in Nebraska.
At every wrestling meet, Eveyln Guzman's parents would watch her performance and that helped her build confidence. What made Guzman's final wrestling meet at State memorable was seeing her parents with tears of happiness and being proud of her and the moment I held my first place medal and thanked Coach Wemhoff for talking me into it.Guzman's second to final match to win championships lasted 28 seconds. Guzman did not expect that she would achieve something she never thought she was capable of achieving first in her weight class.
Along with Carla Chacon and Coach Wemhoff's motivation, she learned to stay focused by not giving up, putting in the time and effort, and having the unstoppable desire to achieve the goal. Guzman's favorite part about wrestling is spending time with her teammates, enjoying the time to learn new techniques and being on the mat. Her goals are to improve her wrestling skills and be a role model for the younger girls. The biggest challenge she had to face was controlling her nerves and not giving up. 
As Carla Chacon progressed into a better wrestler, her favorite part about wrestling is her individual improvement. Biology teacher, Barabara Saathoff was her main role model that helped her see the bigger picture in life. The biggest challenge for Chacon was wrestling practice because she had to put herself in the position to support and be the role model for her younger teammates. "I realized that I needed to be there for them because no one was there for me," stated Chacon.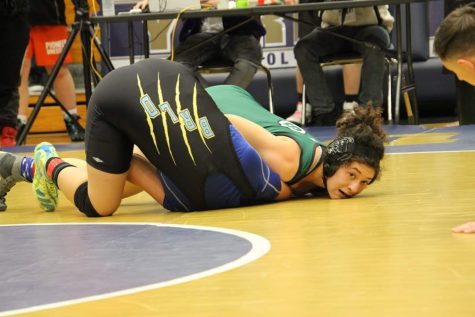 During the State Tournament, Chacon tried not to get distracted by listening to music. After six years of hard work, Chacon felt winning the Championship of the weight class of 132 pounds was the best moment in her life. "I expected to win because I worked really hard for this moment," declared Chacon. Chacon is looking forward to graduating from high school. She wants to be accepted into a college to get her referee certification along with a physical education degree and coaching women's wrestling. As a result from her wrestling experience, Chacon became humble by learning to overcome the losses. "I found my weak and strong spots. So, I worked toward what I needed to improve," Chacon obtained. According to Coach Wemhoff, the Field House was a better facility for Girls Wrestling team to use because the activity building was not spacious enough for both gender teams.
Before the Girls Wrestling State Tournament, Coach Wemhoff prepared each individual wrestler's weakness for the final match of the season. The wrestling girls' goal was to bring a home State trophy. Coach Wemhoff told the female wrestlers if they focus together as a team, all the individual accomplishments will take care of themselves. The main improvements that Coach Wemhoff noticed every week was the improving wrestling skills. "I could see the girls maturing in their skills as wrestlers and coming closer as a team. What I see as success is the girls coming together more as a family and helping each other," Coach Wemhoff remarked. According to Coach Wemhoff, the trophies and medals are the icing on the cake.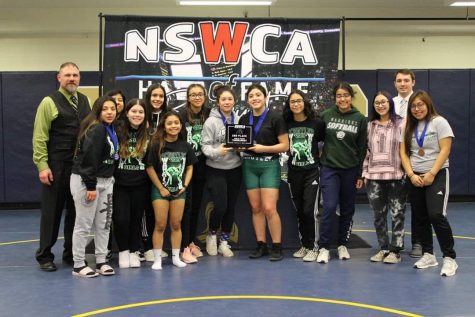 The future goals for wrestling girls is to get involved with the college they choose. According to Coach Wemhoff, in order to pursue a top five team in Nebraska, is to continue to have hard working and skilled girls coming into our program. In the summer, Coach Wemhoff wants to have an all Schuyler Girls Wrestling Camp. The goal is to have at least 20 girls out so the girls can get stronger. With the broad range of the experience each wrestler had to keep them all on the same page was the biggest challenge Coach Wemhoff faced. In the end, each individual female wrestler carried out their best performance.
About the Contributor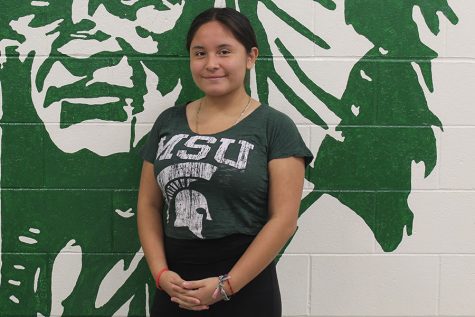 Brienna Romero, Staff Reporter
As a Sophomore, Brienna Romero is a returning Staff Reporter for Warrior News. Her main interests are lifting and competing for the Speech Team. This is...