FCCLA Goes to State!
Schuyler Central High Schools FCCLA has done well at Districts this year and is heading to State. FCCLA is the Family Career and Community Leadership of America. FCCLA State will be April 5th and 6th and the awards will be on the 7th. There are forty-one members in FCCLA this year compared to three members just two years ago. In the Schuyler FCCLA chapter, Seven high school students and five middle school students qualified for State at Districts. According to one of the qualifying FCCLA members, Keiley Gomez, "I was very excited and in shock when I found out that I am one of the State Qualifiers". FCCLA Adviser and Family and Consumer Science teacher, Jared Severson stated, "I was really proud of all the students that competed. It was a lot of hard work with a great payoff". The Middle School Adviser is middle school Family and Consumer Science teacher Rachel Folda.
The FCCLA members who are state qualifiers are Keiley Gomez and William Parra. Elizabeth Harding and Kathryn Tzunux are First Place in "Focus on Children". Katelynn Stodieck is Second Place in "Job Interview". Melissa Escobar is First Place in "Fashion Construction" at level three. Finally, Vivi Sayer is First Place in "Fashion Construction" at level two. 
The students competing at State are excited to go to State and have been working hard to get to where they are. FCCLA members have gone this far and plan to win State. "I have been in FCCLA for two years now. I really enjoy the relationships we created within our officer team. It is a very fun time and you create very close friendships" remarked Keiley Gomez. 
FCCLA will be preparing for the State and will change their strategic plan from last year. According to Mr. Severson, "We started earlier and we learned to enter different categories so we don't overlap. If we compete against ourselves only one can compete from our school at State even if both qualify. They will redo some projects or make changes based on the judges comments. Lots more work and practice to do". The FCCLA members will work hard to succeed at State. "I will be practicing my project in order to get it perfect" stated Keiley Gomez.
About the Writer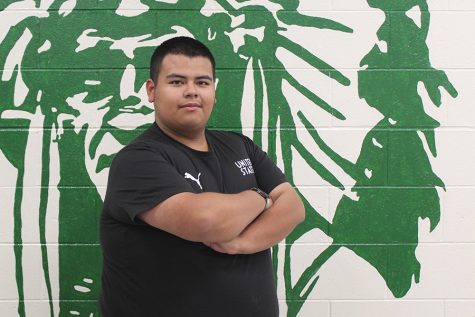 Carlos Salinas, Staff Reporter
As a Senior, Carlos Salinas is a returning Staff Reporter for Warrior News. His main interests are photography, wrestling, history, and gaming. This is...