Champion Powerlifter in Our Midst
On December 16, 2019, Cody Rice placed 3rd at a Creighton Prep Powerlifting meet. Recently Cody received 1st place at the multi-state Midland University High School Powerlifting Meet. According to his powerlifting coach and Alternative Education teacher Aaron Thumann, "Lifting Weight is his passion and he works incredibly hard to grow and improve in the weight room". Powerlifter, Cody Rice stated, "When we first got to Midland, I had the mindset to try new weights and just go for it. When I got first place, I felt proud and happy that we tried hard on weights, even if we failed on some of them." Cody has been lifting since the end of his freshman year. Cody is now a junior at SCHS. Schuyler didn't have a team for powerlifting, but last year he met someone from Scotus that said they had a powerlifting team that other school students could join and he decided to join.
Mr. Thumann stated, "Cody has been making outstanding improvements in the weight room since his meet at Creighton Prep when he brought 3rd place home." Cody stated, " I like to believe that I can only get stronger. I also know that there have been many people that have supported me and I continue to put my effort into it not only for me, but for them. This year, I am also looking forward to a State meet and that keeps me staying positive". Mr. Thumann has helped Cody continue to get better at powerlifting. Cody stated, "Coach Thumann has me doing many things, but many of those focus around my 3 main lifts: squat, bench, and deadlift. One of the main things we focus on is safety. We want to get the most weight we can do, but we want to keep great form while doing it." Cody has only competed in two meets. His next meet is in state at Peru and he is ready. "I would tell people that if they are serious, they should go ahead and try it. All you have to do is put forth the effort. Next year, we are trying to have a team here in Schuyler and we will need people who want to powerlift" remarked Cody.
About the Contributor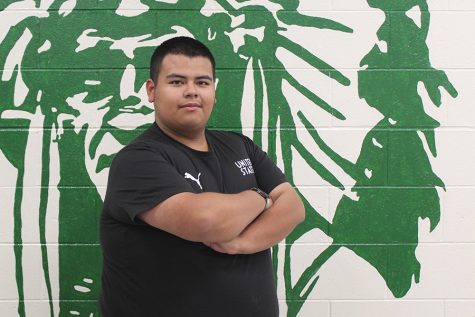 Carlos Salinas, Staff Reporter
As a Senior, Carlos Salinas is a returning Staff Reporter for Warrior News. His main interests are photography, wrestling, history, and gaming. This is...