Fearless Pioneers
Many girls joined the SCHS Wrestling program this year and they can be referred to as pioneers. Girls wrestling has become more popular over the years. This year 15 girls joined the wrestling team. Female wrestlers are referred to as pioneers, because they are part of an evolving program. High school girls wrestlers do not have to qualify for State, yet, because it is not a Nebraska School Activities Association sanctioned sport, therefore high school girl wrestlers from across the state can participate. This is the 2nd year of a State competition and there are more competitions for them this year than previous years. 
Three of the wrestling pioneers shared why they went out for wrestling and areas they are trying to improve. Carolina Carvajal, a freshman, when asked why she joined wrestling replied because "I grew up around my brothers who wrestled so I guess I had an interest in it." Jessica Ortega, who is also a freshman wrestler, said she joined because she thought it would be fun and her friend convinced her to join. Clara Lesiak, also a freshman, joined wrestling because she said it looked fun and "when I would watch my brothers' matches, because my dad was a coach so I got to watch so in 8th grade, I decided to just do it." Carvajal has been wrestling for three years and Ortega has been wrestling for two years. Lesiak has been wrestling for 2 years.  A weakness for each wrestler is "finishing my shots" according to Carvajall and "being on the bottom it's really hard to escape" explained Lesiak. Ortega is working on finishing her shots also.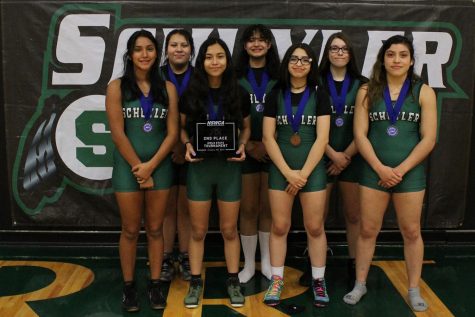 Girls State Wrestling was Friday and Saturday January 29th and 30th at York. Unlike Boys State Wrestling, the girls do not have to "qualify" to compete, because they are not a NSAA sanctioned sport yet. This also means that any girl who is in a high school wrestling program in the state of Nebraska is able to compete at the State competition.  Schuyler Girls Wrestling team took 2nd place at the NWSCA State Tournament. They came home with 7 medals. Wrestlers that placed at State were; 103 Hasley Salgado 3rd, 117 Maddy Pineda 4th, 132 Carly Wemhoff 3rd, 132 Alekxa Olvera 6th, 154 Evelyn Guzman 2nd, 190 Gina Alba 5th, and HWT Yadira Morales 4th.
About the Contributor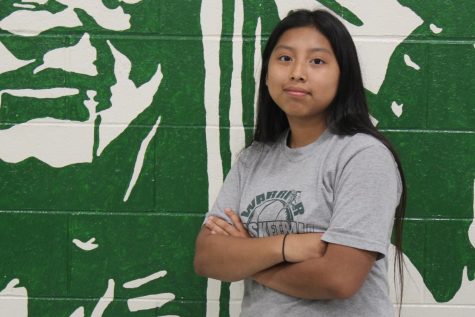 Jacquelyn Perez, Staff Reporter
As a Freshman, Jacquelyn Perez is a new Staff Reporter for Warrior News. Her main interests are playing basketball and watching movies.