Johnson hits a Hole-in-One
For Schuyler Central High School, college golf signings don't happen quite as often as other sports, but this year girls golf team member and senior Carly Johnson signed with Peru State College. Johnson has always had her eyes set on Peru and when she received the offer she couldn't have been more thrilled. Johnson liked the fact that Peru is a smaller college so it felt like everyone knew each other. She had a great experience with the academic advisor and the college golf coach.
Johnson worked very hard during the on season but also during the off season. She would go out with friends or by herself to focus on different aspects of the game. She would also always make sure that her grades were on track. Johnson would try and get her name out there by talking to coaches or her coach would also talk to others. She believes that what helped her really secure her scholarship to Peru State College was medaling, York, and cutting her strokes down by thirty swings. Johnson remarks, "these have all helped me get this offer because of how hard I have worked and gotten better in two years!" 
Johnson looks forward to making new friends, getting better at golf, and learning more about what she wants to do in her life. With her new golf team, she hopes to medal consistently and become close with them. To other girl golfers hoping to sign with a college, Johnson recommends to work hard, get out there every day as much as you can and focus on every swing. Johnson advises, "If you want to play in golf college make sure to focus in and out of the classroom! Education is the most important thing, no matter what."
About the Writer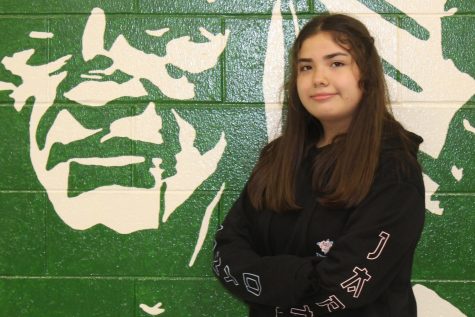 Victoria Melgar, Staff Reporter
As a Freshmen, Victoria Melgar is a new Staff Reporter for Warrior News. Her interests are sketching and spending time with her family.