Leadership required in National Honor Society      
National Honor Society is a group of students who demonstrate leadership abilities in and out of school, volunteer for community service hours and demonstrate severe strong attributes of character. National Honor Society leaders help the community by raising money to donate to groups and families who need it. The member induction will be held to officially welcome 13 new members into the honor society. This year they will be adding 13 new members and currently there are 21 members. The induction will be on March 23rd. "We will be combining last year's inductees with this year's cohort," explains Bianca Alarcon, Spanish Teacher and a sponsor for National Honor Society. Michael Trotter, SCHS Art Teacher and former NHS sponsor was in charge of the induction while Mrs. Alarcon is on maternity leave. Unfortunately, Mrs. Alarcon explained, "the pandemic has definitely interrupted a lot of things." The NHS had to postpone last year's initiation. This year they were not able to have a service project as a group to avoid community contact and service hours for students were also reduced.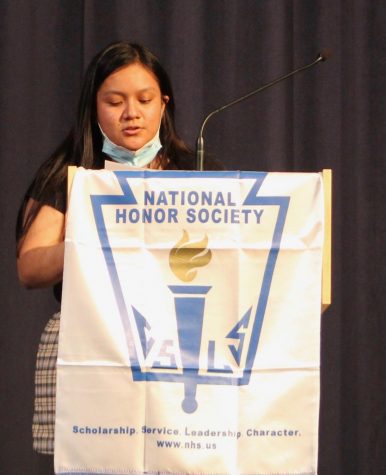 The officers that recently delivered the letters of acceptance to the candidates were President  Aaron Langemeier, Student Council Representative Dominic Semerad, and  Secretary Jocelyn Tena. In order to be accepted, there is an application process that needs to be completed. First students need to have a 3.7 GPA or above by the end of their sophomore year. If students have the 3.7 GPA they will receive an application in which they state; their personal statement of why they would be a great candidate for the National Honor Society, their leadership experiences in and out of school, their service to others, and a description of their character. "The group of seniors that we have this year has been wonderful and willing to help me learn the ropes as I go along the year, especially the officers," shared Mrs. Alarcon.