Boys Golf, Back in Action
For Schuyler Central High School, Covid-19 affected a lot of Spring sports last year. One of those Spring sports was boys golf so SCHS now welcomes back boys golf this season. Many underclassmen missed out on a year's worth of sports instructions and techniques. Boys Golf Coach, Brante Hayes mentions that it's important to have a development year so golfers can be successful in the years to come. According to Coach Hayes many upperclassmen also missed out last year on the opportunity of setting themselves up for potential success. This season the boys golf team has two new freshmen and one senior recruits joining the team. According to Coach Hayes, he and the team look forward to this season and "have been very anxious to compete."
Coach Hayes plans on using both the team's weaknesses and strengths. He sometimes sets up an underclassmen with a varsity golfer so they can work on swing techniques, rules, and golf etiquette. His thoughts are that, "this helps us come together as a team as we all take part in growing." Coach Hayes shares what he likes to see in a good team member by advising, "Being a leader is going above and beyond what is asked even when no one is watching. They have to be willing to put in more work than anyone else on the team every single day." SCHS boy golfers are going to be busy this season competing mostly with Scotus and Lakeview, but also other teams like West-Point Beemer, Logan View, North Bend, Yutan, Fullerton, and Wayne. This is the first season that they will compete against Aquinas and Riverside at their first Schuyler Scramble.
About the Writer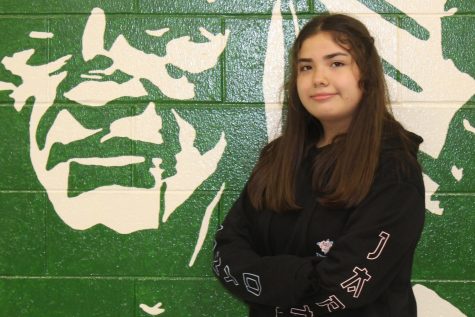 Victoria Melgar, Staff Reporter
As a Freshmen, Victoria Melgar is a new Staff Reporter for Warrior News. Her interests are sketching and spending time with her family.