Food Truck Competition gets Culinary Art students excited
 Schuyler Central High School is having a Food Truck Competition this year. The Food Truck Competition will take place during the Parent-Teacher Conference which is on October, 21st from 4 to 7 Pm. Family Consumer Science and Business, teacher Jared Severson's students are selling food in their "Food Truck Competition". Culinary Arts have 15 intro students and 5 advanced students are the master chefs. There are going to be four food trucks that are competing with each other and selling different types of foods. "This is a great opportunity for the students to see how the real world works in culinary. They have customer service, money management, inventory management, and the demands of prompt good hot fresh food," explained Mr. Severson.
Students are going to sell their food in the auditorium and each group will have a table. They will be decorating the table with a food truck design. Mr. Severson was asked how the idea was formed and he explained, "I went to Career Technical Education training a few years ago and heard of a similar project. I adapted to our school size and timing that works for our class. The last 2 events were pre-Covid. This year is going to be the 3rd event. The ingredients and supplies needed for the meals are not purchased by students, but are paid for by the school. The students don't get to keep the profit, but the profit is kept to help the program. Different types of food that are going to be sold are; lasagna meals, chili and cinnamon meals, and the other group are still thinking about what choice of food they're going to sell.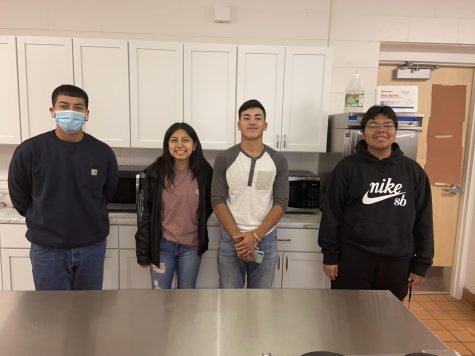 Jacklyn Ramos, a junior, said, "we are planning to sell lasagna, garlic bread, tiramisu, and blackberry Italian soda." Each student in Culinary Arts is in a group to represent their Food Truck. Lizbeth Trejo, Heymi Monzon, Vanessa Gonzalez, and Emely Soto are in Jacklyn Ramos' team. Jacklyn has been in Culinary Arts for two years. Their truck's name is Garfield Lasagna. Another student from Culinary Arts is Adrian Rocha, a junior. He has been studying Culinary Arts for two years. Adrian is excited for the event that's taking place.