Girls wrestle at first NSAA State competition
Girls Wrestlers came home from Districts with 6 medals and 4 State qualifiers. The girl wrestlers that qualified for State were; 107 Halsley Salgado, 114 Courtney Briones, 138 Carly Wemhoff, and 185 Gina Alba. Courtney Briones and Carly Wemhoff both placed 4th at State. Wrestling Head Coach Mark Wemhoff, is an Industrial Tech/Science teacher at SCHS. Coach Wemhoff has been coaching wrestling for 26 years. He felt excited for the four State qualifiers having an opportunity to wrestle at the first NSAA sanctioned State Wrestling Tournament. Coach Wemhoff's main goal was proving to the rest of the state that Schuyler girls are tough as any other girl competing at State. "We pride ourselves on never quitting, never giving up," shared Coach Wemhoff.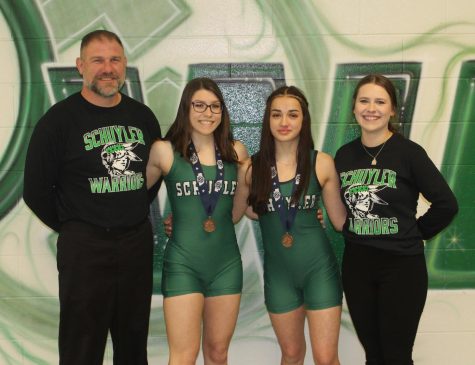 Coach Wemhoff explained, "The girls noticed during the season that a lot of other teams or girls are talking about them."  Coach Wemhoff has told them that it's because they are on top they get noticed. Coach Wemhoff's saving grace is Assistant Girls Wrestling Coach Ms. Bailey Ballard, Social Studies teacher. Ballard helps balance the team. Mr. Wemhoff explains how he used to do it all. "Having a person by my side that understands wrestling and what emotions the girls go through is a huge help. Ms. Ballard is a nominee for Assistant Coach of the Year. 
Junior, Hasley Salgado, was a wrestler that qualified for State this year. Completing her 4th year wrestling. Hasley Salgado went out for wrestling because she wanted to try something new. When wrestling at State she felt nervous. Hasley was asked why she was successful this year making it to state and she said, "I worked really hard to get to where I am. All the extra practice, clubs, and meets this past summer helped me a lot."