SCHS Musical brings Anastasia to life
Anastasia; journey to the past" musical will come to the SCHS stage on April 29th, 30th, and May 1st. The musical is about a Russian Princess who has amnesia and her journey to find out about her past. The directors for the musical are: Morgan Semerad, Head Musical Director, Hope Pedersen, and Paul Niedbalski. This will be Ms. Semerad's second year as the Head Director. Last year Ms. Semerad directed "The Addams Family" musical. Ms. Semerad also attended SCHS and graduated in 2013.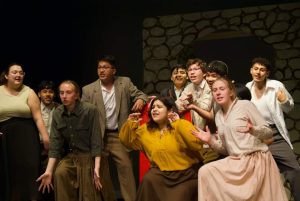 Gabe Schwarte, a sophomore, is on the Tech crew in control of the spotlight. This is Gabe's first musical at Schuyler Central High School and has participated in three other musicals during summers at Dubuque, Iowa. Gabe was asked what he would say to people who would want to act in a musical, he responded, "I would say do you like to sing and act? if they said yes then I would tell them to join." The performance will be held on April 29th and 30th at 7:00 PM and May 1st at 1:00 PM in the auditorium.