Burgers Bash for Chapel Repairs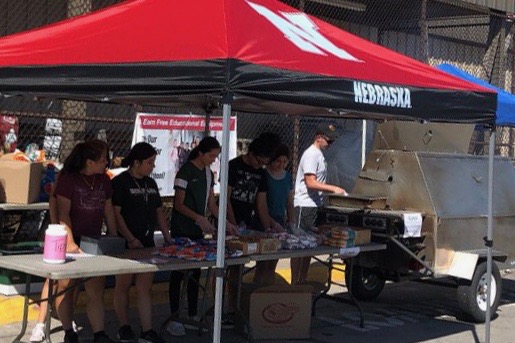 On September 15th, the National Honor Society held a Burger Bash at Didier's in hopes of raising money for the Schuyler Cemetery Association in order to have the chapel roof replaced and make other repairs. The National Honor Society is a group of students who demonstrate academic excellence, service, leadership, and character. National Honor Society students participate in different activities to raise funds for various associations and performs community service work.
There are currently 33 students in the NHS. English teacher, Mandy Yosten, is the sponsor for NHS this year. According to Mrs. Yosten, 17 members of the NHS helped. One group of students helped with advertising and the other group sold burgers. Mrs. Yosten said that it wasn't what she expected. A lot of people came to support and the Didier's staff also helped with the Burger Bash. Mrs. Yosten stated that they raised about $710, but didn't meet their goal of $1,000. According to Mrs. Yosten, they are going to continue to find ways to raise money for the Schuyler Cemetery Association this year.