Revolution Raises Awareness On Abusive Relationships
Did you know one out of every three females will go on to be victims of domestic violence? Domestic violence is something that can affect everyone and anyone. On Monday, 24th, the Center for Survivors held an assembly regarding domestic violence and abusive relationships in the West gym. Their assembly was aimed at creating awareness for domestic abuse.
The Center for Survivors, based in Columbus Nebraska, is a non-profit organization community center. They are united for the purpose of helping victims of domestic violence and sexual assault and their families. The organization was founded in 1980. According to the Center for Survivors is primarily concerned with delivery of services to the public education institutions and mobilization of community resources for adult and child survivors of abuse and sexual assault.
At Center for Survivors funding is provided by grants from the Nebraska Department of Health and Human Services along with various other grants and tax-deductible contributions from individuals and organizations. The Mission of the Center for Survivors is to stop abusive relationships through education and prevention in order to create a safe environment for all individuals, families, and communities.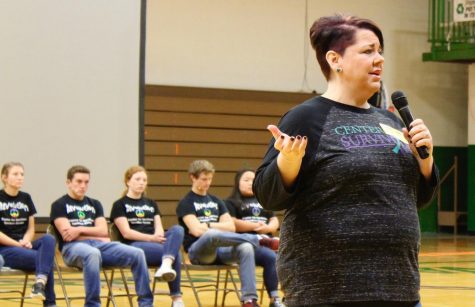 On Monday September 24th, Revolution, a group of volunteer high school students who help get the organization's message across, performed a skit on the topic of domestic violence at the SCHS west gym. The skit was followed with interactive discussion with the student audience.
The Center for Survivors is located in Columbus, Nebraska at 3103 13th Street. Center for Survivors operates in 6 counties, they are Butler, Boone, Colfax, Platte, Nance, and Polk. They have an office in Schuyler. If you or a friend need to or would like to talk to them contact  them on their twenty-four hour hotline at 1-800- 658-4482.