A Great Day of Tech
On October 17, the fourth annual Schuyler Tech Fair was at the Schuyler Central High School. What is the Tech Fair? The main purpose of the Tech Fair is to provide the staff and students the opportunity to learn about 21st Century technologies. Staff and students had the opportunity to listen and learn from speakers who share their expertise in successfully incorporating technology into the classroom. In addition, several local businesses and sponsors shared and demonstrated how their technology is used in their workplace.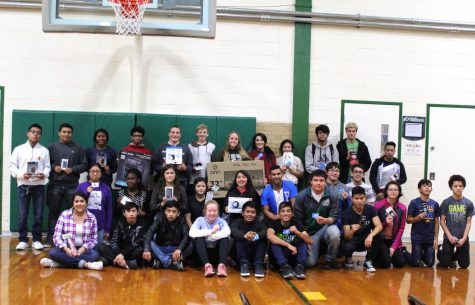 There was also a drawing for prizes for the participating students. All participating students received at least one ticket to be entered into the random drawing at the end of the day. Students had opportunities to earn additional prize tickets throughout the day, according to Jeff Droge, "by following directives and interacting positively at the Fair." Prizes included 32" LED TV, High-power speaker with lights, home theatre projector, fitbits, headphones, iTune gift cards, and much more.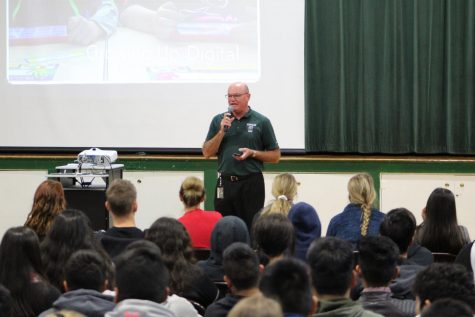 The people behind the Tech Fair are the staff of the school Tech department. The Director of the Tech department, Jeff Droge, and the other staff members started planning the Tech Fair in March and found the best companies to be at the school to represent their technology to the students. Mr. Droge believes that the students will enjoy this year's Tech Fair just as they did last year, because the students will get an opportunity to see new technology, participate in other activities and get to interact with this year's speaker. Mr. Droge also believes that the students were inspired and have an opportunity to learn something from this.
The keynote speaker for this year's Tech Fair was Craig Badura. Mr. Badura is the K-12 Technology Integration Specialist for Aurora Public Schools in Aurora, Nebraska. He was chosen to be the speaker this year's Tech Fair. The tech department were able to choose him for "his tremendous enthusiasm and desire for teaching students how to use technology to improve their education and life experiences" according to Mr. Droge.