Darcy and Elizabeth hit the Stage
On Sunday, November 18 at 2:00 p.m and 7:00 p.m the Schuyler Central High School One Act public performance was be held in the East Gym. One Act Coach Mrs. Melanie Gustafson held auditions in late August and started rehearsing regularly the first week of September. Mrs. Gustafson said that this years' One Act is a classic drama, but it definitely has comedic characters. The One Act coaches knew they wanted to do a play with costumes and a large set, so after a lot of ideas, they finally agreed on "Darcy & Elizabeth" by Jon Jory from the book Pride & Prejudice by Jane Austen.
According to Mrs. Gustafson, this play is a well-known story, and the One Act coaches wanted to do something more serious than the comedy they did last year. The costumes were rented from The Costume Library at Nebraska Wesleyan college in Lincoln. There are 62 students who are performing and helping with the One Act play this year.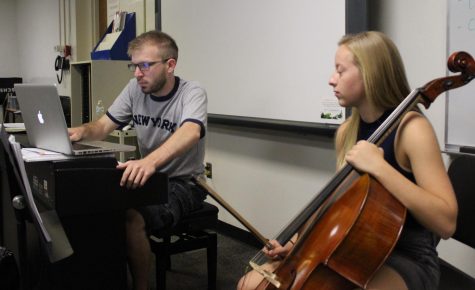 Jordan Brabec, brother to One Act actor Kasey Brabec, composed all the music that is played throughout the play. Jordan Brabec lives in Los Angeles and is currently working on his Psychology Graduate degree at the University of California at Los Angeles. He is also working for a startup company as a consultant in Los Angeles. Jordan graduated from Schuyler in 2012 with Highest Distinction and he graduated from Creighton University 2016 Summa Cum Laude with a Bachelors degree from the College of Arts and Sciences.
According to Mrs. Gustafson, there is a waltz scene where all the actors dance at the ball, and for that scene Jordan Brabec included a piece to be played on the cello. Maria Semerad plays the cello on stage along with the music. The One Act crew have five competitions they will perform at; Norfolk High School, Central Community College at Columbus, Elkhorn South High School, the conference competition at York High School, and the District A-1 competition at Lincoln Southeast High School.
Mrs. Gustafson has been coaching for 12 years and this is her second year at SCHS. Assisting her are Mrs. Amber Beltrand and Ms. Rory Wendelin. "I always get so nervous about running over time. I worry about the kids knowing their lines and the set crew remembering where the pieces of the set are supposed to be placed. Mrs. Beltrand always reminds me of the magic that happens on the stage. We put all the pieces together, and one night, it finally all falls together. Every time, this is what is the most impressive to me," Mrs. Gustafson said.