"All rise" to the Nebraska Supreme Court
On November 2, 2018, Schuyler Central High School hosted the Nebraska Supreme Court. Schuyler Central High School was chose to host the State Supreme Court. The high school chosen is usually a class A school. "We were randomly selected," said Jim Kasik. The Nebraska Supreme Court has only held court in a school two previous times.
Judge John Gerrard, United States District Judge and Schuyler graduate, gave a brief introduction about each case. He also introduced the Supreme Court. There are a total of 7 Judges, 6 are chosen from each district in Nebraska. The Chief Justice is Michael G. Heavican, also a Schuyler graduate. The members of the Supreme Court were Lindsey MIller-Lerman, William Cassel, Jonathan Papik, Stephanie Stacy, Jeffrey Funke, and John Freudenberg.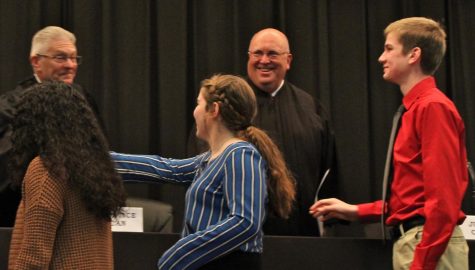 Once everyone was introduced, the gym became a courtroom. The first case was about the strict liability based on a dog bite statute and negligence. The second case questioned whether or not a police officer had probable cause to search a vehicle based on the odor of marijuana, because the car was recently in Colorado. Both cases had previously been heard, decisions had been made by district courts, and parties involved were appealing the decisions. Arguments were heard from both attorneys and the judges asked questions for more clarity. No decisions were made. The judges were going to research before making a decision. Following court time, students were allowed to approach the podium and ask questions to the judges. Jason Friesen, Schuyler Central High School Government teacher, used this rare opportunity to have students ask questions and analyze the court process at the supreme level.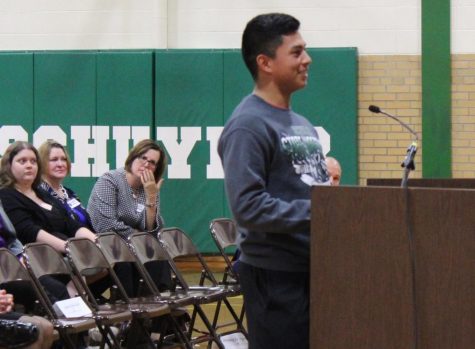 Juniors and seniors of Schuyler Central High School and school staff and administration, were joined by Senator Bruce Bosselman. The Colfax County Court Judge, Schuyler City Council members, and past Schuyler Central High School graduates, who became lawyers, were in attendance. Student ambassadors assisted as needed. The student ambassadors were; Rachel Shonka, Carlos Alarcon, Samira Yusuf, Carly Johnson, Nayeli Cruz, Denisse Adame, Brayden Rocha, Connor Bywater, Nolan Healy, and Aaron Langemeier. This was an educational opportunity for students, and it was an honor for the school and community to host this event.