Trainers Promote Awareness
Hang on for a minute...we're trying to find some more stories you might like.
All over the United States, high school and college athletic trainers are promoting the "Safety in Football Campaign." Before the football game on September 9th started, Schuyler Central High School Athletic Trainer Melissa Bulin and Zack Follmer, Lexington High School Athletic Trainer, were recognized as the full time athletic trainers.The campaign was to promote secondary and high schools having full time trainers for sports. Schuyler and Lexington football athletes wore a Nebraska Athletic Training sticker attached to their helmet promoting awareness of the campaign.
This is Melissa Bulin's first year as a certified Athletic Trainer. She attended the NAIA college in Kansas. Bulin is from Nebraska. After high school, Bulin attended Central Community College in Columbus then transferred to Wayne State College. Then, Bulin graduated from the University of Central Oklahoma in Edmond, Oklahoma with a Masters of Science in Athletic Training degree. According to Bulin, athletic trainers are required to have a masters degree before practicing athletic training. Also, Bulin worked at the Columbus Community Hospital. In high school, from the sidelines playing softball, she discovered her interest in a career as an athletic trainer.
"I think my best advice for the athletes is to remember to take care of your body off of the field/court," Melissa Bulin advised for athletes. A recommendation for athletes is to allow your body to get enough fuel and hydration. As an athlete, you gain more preparation with the right information. Bulin stated," You need to make sure you are giving yourself enough time to rest. Not only at night, but between seasons."The common injury Bulin has dealt with is ankle sprains." However, a volleyball and softball players have more shoulder problems than a cross country runner who doesn't use their shoulders as much," Bulin stated.
About the Contributors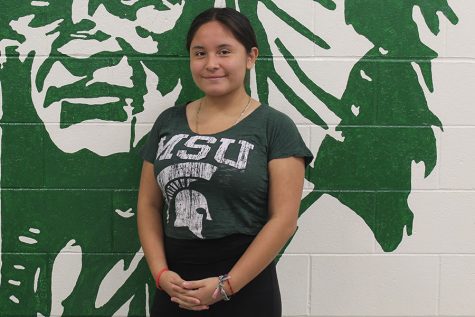 Brienna Romero, Staff Reporter
As a Sophomore, Brienna Romero is a returning Staff Reporter for Warrior News. Her main interests are lifting and competing for the Speech Team. This is...