Nebraska Legislature to debate school safety
There have been several terrible events in 2019 that had a major impact. Anything can happen, from a natural disaster, explosion, knifing and shooting. There was recently a gas leak in downtown Schuyler. Thanks to Schuyler Community Schools for sending an email/text to students, staff, and parents were warned. Our local police department also helped by clearing everyone out of downtown. In 2019 in just 46 weeks there have been 45 school shootings in the United States. In total there have been four hundred and thirty-four mass shootings in 2019.
 Although schools already have a plan in case of an intruder, the problem is getting worse. SCS already has a plan in the event of a shooter and the police department is very close to the schools unlike other schools in Nebraska that don't have a police station nearby.
 Recently the Laurens County Schools District in Georgia, according to AJC news "finds itself on the vanguard of a new school safety model." Because of its remote rural location, Laurens County has become the first school district in Georgia to issue guns to their teachers to protect students and themselves in the event of a shooting. The staff approved to carry a weapon underwent extensive evaluation and training before they were allowed to carry.
The Nebraska legislature and Senator Steve Halloran are trying to pass a bill that allows school boards to choose to let their teachers carry concealed firearms on the school campus. According to ksnblocal4.com, "Halloran's bill would let school boards vote if they would want volunteers to conceal carry firearms on campus. Staff would have to have a permit through the State and be vetted by the board". It has been a problem and people are working to find a solution. They have such an issue that they consider having weapons on school property.
According to ksnblocal4.com, Senator Halloran said "not every school will want to take part. But he wants the rural schools to have the option since they are farther away from law enforcement". The bill was stopped in the Judiciary Committee last session. Halloran said some of the other senators didn't believe there was a need for such a bill. but he hopes it can move to the floor for debate." The government and state are trying to find a solution to this problem.
About the Writer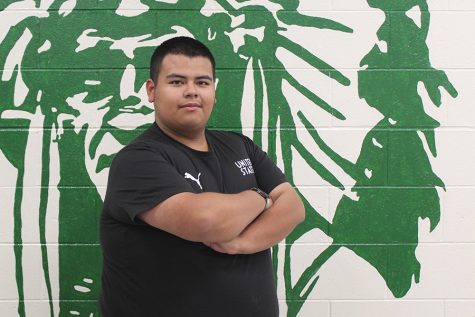 Carlos Salinas, Staff Reporter
As a Senior, Carlos Salinas is a returning Staff Reporter for Warrior News. His main interests are photography, wrestling, history, and gaming. This is...