Donuts Consumed for Charity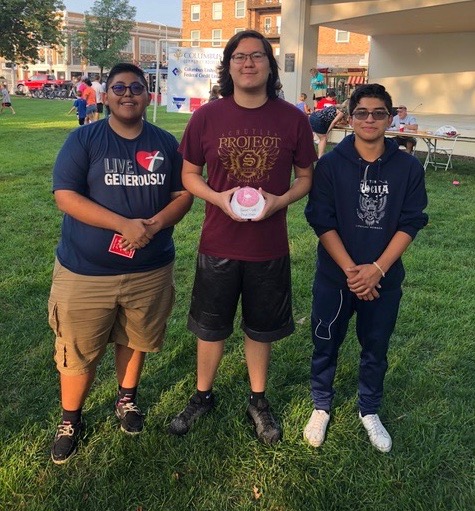 Hang on for a minute...we're trying to find some more stories you might like.
On August 18th, 2018 three students from Schuyler Community High School attended a Donut Eating Contest in Columbus, Nebraska. This contest was held to raise money for the program Comfort Closet. Comfort Closet helps the students in our schools who may need some extra assistance. It provides food, clothes and hygienic items. This event was held in Frankfurt Square in Columbus. Schuyler Community High School, Columbus High School, Scotus High School, and Lakeview High School were all part of this event.
Jared Severson, high school teacher and Project S Advisor said "Our students were Warriors and came so so very close to winning in the Tie Breaker." Overall we came in second place and Lakeview came in first. "This was a fun event, but it also served as a great way to give back to charity. Thrivent hosted the event to raise money for school supplies in both Columbus and Schuyler to help kids in need. Our Warriors did us proud by suffering after all that sugar." stated Severson. This not only was a fun event, but SCHS and the other schools raised money to help kids in need.
Warriors received 2nd place in the Donut Eating contest, and came in first for the school who raised the most money. Schuyler raised 168 dollars and all together the schools raised 300 dollars. The competing Warrior students were:  Delvin Delcid (junior), Julian Castillo (junior), and Mario Rocha (freshman). They had to try out by trying to eat as many donuts as they could in a minute.